Hip
Hip Arthritis (Osteoarthritis)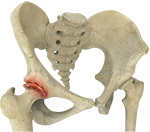 Osteoarthritis, also called degenerative joint disease is the most common form of hip arthritis. It occurs most often in older people. This disease affects the tissue covering the ends of bones in a joint (cartilage). In a person with osteoarthritis, the cartilage becomes damaged and worn out causing pain, swelling, stiffness and restricted movement in the affected joint. Although osteoarthritis may affect various joints including hips, knees, hands, and spine, hip joint is most commonly affected. Rarely, the disease may affect the shoulders, wrists and feet.
Hip Bursitis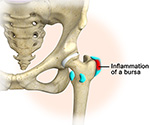 Hip bursitis is a painful condition caused by inflammation of a bursa in the hip. Bursae are fluid filled sacs present in joints between bone and soft tissue to reduce friction and provide cushioning during movement.
The bony prominence of the hip is called greater trochanter and is present on the outer side of the upper thigh bone or femur. The bursa overlying it is called trochanteric bursa. Another bursa is located towards the groin region and is called iliopsoas bursa. Bursitis of the trochanteric bursa is more common than that of iliopsoas bursa.
Primary Hip Replacement
The hip joint is one of the body's largest weight-bearing joints, located between the thigh bone (femur) and the pelvis (acetabulum). It is a ball and socket joint in which the head of the femur is the ball and the pelvic acetabulum forms the socket. The joint surface is covered by a smooth articular cartilage which acts as a cushion and enables smooth movements of the joint.