Injections
Joint Injections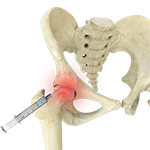 When a patient has back problems this can also cause symptoms around the hip and can confuse the primary diagnosis. Mr Patel is able to perform diagnostic and therapeutic hip injections when the diagnosis is unclear or if a patient is not ready to have a hip replacement. This will be performed in theatre under image guidance to ensure the injection is correctly placed, within a sterile environment to reduce the chances of infection.
Platelet Rich Plasma
Platelet Rich Plasma (PRP) is a new treatment modality used for sports injuries. It stimulates healing due to a higher concentration of growth factors and inflammatory mediators than blood. It can be used to treat tendon and muscle injuries with a success rate of 70-80%. Treatment is reserved for appropriately selected individuals.