Mr. Amit Patel
BM BSc FRCS
Consultant Trauma & Orthopaedic Surgeon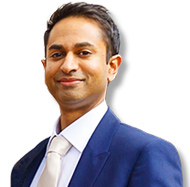 Mr. Amit Patel
Mr Amit Patel graduated from Southampton Medical School in 2003, did a one-year Internship at Southampton University General Hospital and entered into a Surgical Training Programme at Southampton Teaching Hospitals. He achieved Membership into The Royal College of Surgeons in 2006 and successfully completed his surgical training in 2007. He then entered Higher Surgical Training on The Stoke/Oswestry Orthopaedic training program. He became a Fellow of The Royal College of Surgeons in 2013 and proceeded to do a Fellowship at The Exeter Knee Reconstruction Unit before taking a Consultant post in Trauma and Orthopaedics at The Royal Stoke University Hospital.
Mr Patel is a specialist in Hips and Knees and treats conditions ranging from sports injuries to degenerative joint disease and inflammatory arthritis. He treats knee pain, instability, stiffness,
locking, giving way and swelling. He performs 'conservative' knee surgery so patients can keep their own joints for longer by restoring cartilage defects when possible, and performing realignment surgery to address mechanical malalignment that predisposes to earlier joint degeneration.
Operations that he performs include; knee 'keyhole' surgery,, ligament reconstruction, patella realignment surgery for degenerative disease and instability, lower limb realignment surgery (tibial and femoral osteotomy), cartilage regeneration surgery, knee replacement surgery (computer aided and patient specific technology), unicompartmental and patellofemoral replacement and primary hip replacement, surgery. Mr Patel also performs platelet rich plasma (PRP) therapy and specialises in sports injuries. He has a team of physiotherapists that work very closely with him to help get you back to your previous activities. Patients should be reassured that after consultation they will have a treatment plan tailored specifically to their needs.
Mr Patel has a commitment to teaching at both a national and international level. He is actively involved in Undergraduate teaching of Keele Medical Students and the Postgraduate training of Higher Surgical Trainees. He is on the selection panel for the recruitment of Higher Surgical Trainees and on the appraisal panel for the Stoke/Oswestry Orthopaedic Registrars.
Mr Patel is a passionate Surgeon and Father. He feels privileged to live in Staffordshire. He is a keen skier and enjoys swimming, cycling and going to the gym. Having sustained sports related Knee Injuries himself he understands what it is like to be a patient.